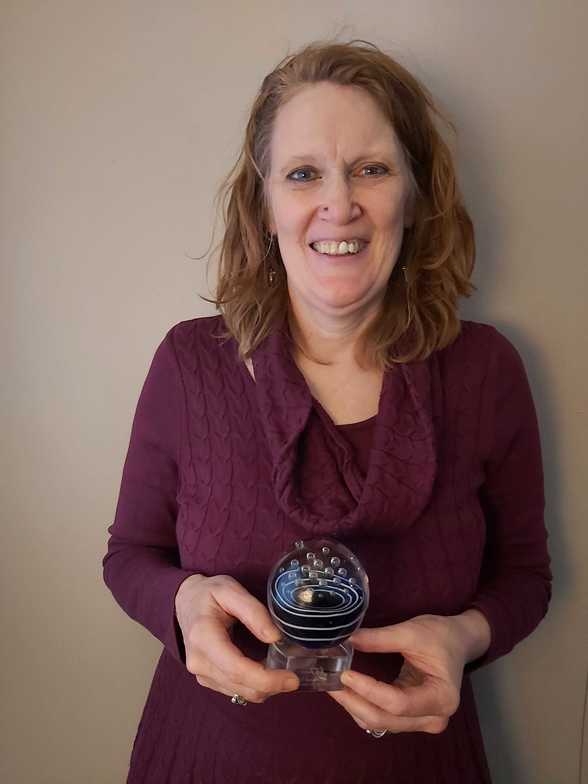 GRATITUDE FOR AWARD
I was grateful to receive a Honorary Lifetime Membership award from the Massage Therapy Association of Saskatchewan (MTAS) on April 2, 2023. I was nominated by Linda Fisher and Cecile Coppens for contributions to the betterment of the massage therapy profession. I was thrilled to receive the call from Lori Green, Executive Director of MTAS notifying me that I was selected by the board. I appreciate their recognition of my work in the massage therapy field and have felt their steady support over the years. I became a member of MTAS in 2004 when I moved back to Saskatoon and have had many helpful interactions with the office over the years, especially through Jayne Little, the office manager and Lori Green, the executive director. For the past 26 years, my guiding principle has been to offer effective care to my clients, teach others about the profession and to keep expanding my knowledge base through constantly taking new courses. I love sharing massage information with others, whether it be breast massage, oncology massage, breast cancer research, or lymphatic drainage, and I hope to improve the care given to all who need it.
INVOLVEMENT WITH MTAS
Several years after I became a member, I was asked to be a keynote speaker for the AGM so I chose the relevant topic of Complementary Alternative Medicine modalities that are available now in the health field. I enjoyed the good discussions with fellow massage therapists.
My continual involvement at the MTAS office has been through my ongoing Breast Massage classes that I began to run exclusively out of the MTAS office one to two times per year. It is my passion to educate massage therapists, as well as clients, health care practitioners and the general public about this most important treatment option for clients, especially due to the rise of breast cancer for women.
I became interested in studying oncology massage through working with breast cancer survivors. I contacted MTAS and with their support, led educational talks on Oncology and the Myth of Metastasis in both Saskatoon, Regina and online. This opened up the discussion and brought into open acceptance the truth that as massage therapists, we can treat people with cancer effectively.
After these discussions I started a Professional Practice Group on Oncology with the support of Aileen Tran Mapletoft which lasted several years. A variety of cancer related topics were discussed in person and online at the MTAS office. Unfortunately, I could not keep it going and no one was interested in taking it over, however it was good to get the initial awareness going about Oncology Massage.
In partnership with MTAS I organized a class on Massage Therapy for People with Cancer by Gayle McDonald. I had taken her Oncology class in Oregon and was happy she agreed to teach in Saskatcehwan, share her knowledge with our community, and to be her teaching assistant for the class.
In one of the MTAS In-touch Research Symposiums, I met with Dr. Premkumar and had further discussions afterwards with her and Emiliana de Bomfim from the University of Saskatchewan about helping her with her graduate work. It is entitled The Effects of Swedish Massage on quality of life, sleep, stress, fatigue and biological markers in recently treated breast cancer patients. I helped with recruiting breast cancer participants, designing the massage protocol, organizing, and teaching the protocols to massage therapists and McKay's massage therapy students. The massage protocols were eight weeks each time and we did them three times in total at the MTAS office. We took oxygen and blood pressure measurements, and other material was collected. It was a great project to be a part of, massaging a variety of breast cancer patients and sharing the benefits of massage therapy for breast cancer patients.
Outside MTAS
Since the start of my career I have been an educator at massage therapy schools and a teaching assistant for Breast Massage at West Coast College of Massage Therapy (the school that I graduated from). In Saskatoon, I taught classes at McKays, a cranial sacral introduction at PIMT and Breast Massage classes at Axiom.
I enjoy teaching workshops on massage therapy and complementary alternative medicine, in many different settings – for the general public, Vancouver Women's Health Collective, schools, nursing , businesses, Muskeg Lake December 6 Women against Violence day, YWCA Breast Cancer Encore program, and other places.
In Vancouver, Isobel McDonald, RMT and I organized a class on Post-Traumatic Stress Disorder taught by Breast Massage Book author Debra Curties and Pam Fitch. We also started a women's health massage therapy group in Vancouver.
In terms of my work in the lymph field, I was the President of the Lymphedema Association of Saskatchewan (LAS) for a short time. I organized a Manual Lymphatic Drainage class in Saskatoon and presented numerous workshops at our LAS conferences. Spreading the knowledge about lymphatic drainage and the key to it's involvement in breast cancer recovery has been central to my practice.
Sharing the benefits of Breast Massage was my goal when I applied for and was accepted to present a workshop at the the World Breast Cancer Conference in Hamilton, Ontario. It was a comprehensive week and I was thrilled to be a part of sharing the importance of breast massage.
Other Research projects that I have been involved in at the University of Saskatchwan include:
The New Normal-Living with Lymphedema Post-Breast Cancer with Roanne Thomas and Liz Quinlan. It focuses on the importance of how lymphedema affects women post-breast cancer, through a play, called an ethnodrama. I was involved with recruitment, and travelled to Toronto where I presented the lymphdema play during the Grand Rounds at Odette Cancer Center. It was a thrill to be involved in educating health care professionals about the prevalence of lymphedema from women who themselves are experiencing it. I also presented the poster of it at In-CAM conference in Calgary. Creative Practices for People with Cancer is an interesting project I was involved with exploring different creative options for clients with cancer, with lead researchers being Liz Quinlan and Roanne Thomas. We presented these findings at the Breast Cancer Rehabilition Physiotherapy conference.
I truly enjoy helping new massage therapists learn about the profession and offer my knowledge base while they take classes. I have unofficially mentored many students from the schools that I have taught at, as well as clients that have been interested in pursuing massage therapy and subsequently entered massage therapy school. And more officially, I have been a mentor for 5 students at the Okanagan Vernon College of Massage Therapy. They have a 3 week mentorship program that the students are required to do. They have to work with a massage therapist in all capacities to see how they operate, both in the treatment room and in the practical running of the business. It has been a meaningful experience for me to share my skills and also learn from them.
On another level, I started, along with my partner, Dale Jack, Saskatoon Massage Therapy Supply, in 2006 to provide massage therapy supplies to the community. We strived to meet a need that was not here at the time, to offer a service of high quality goods to massage therapists in Saskatchewan and on the internet! We are still in operation now out of our home with a loyal and appreciative customer base.
Lastly, I am proud to be a founding member of the Broadway Health Collective, where I have worked for the past 20 years! My colleagues and I have created a thriving, open, caring space within a collective business model.. I am thrilled to have diverse practitioners continuing to join us, and new projects always unfolding. It's a dynamic process, as is life!
In the community, I have also been involved in many activities over the years, such as Ness Creek Playground Coordinator, Buena Vista Community Association member, Unitarian Lay Chaplain, Pride Parade, Broadway Street Fair, SIGA Good Food Run, Reconciliation Walks. Etc. I also teach Yoga, Healthy Breast Foundations and am training to be an Oncology Yoga teacher.
In January of 2023, I received the Queen Elizabeth 11 Platinum Jubilee Medal for my business and community involvement and in May of 2022, I was one of two Runners up for the community involvement award for Women Entrepreneurs of Saskatchewan.
I am blessed to be a part of the massage therapy community and thankful for their interest in all my proposed educational pursuits that they have become involved in, and once again, I express my heartfelt deep gratitude for receiving the lifetime honorary membership award from MTAS.

Pam Fichtner
RMT, CST, Oncology Care, Lymph Drainage
Contact Me