Creating A Place Of Resonance
~~~tawaw ᑕᐋᐧᐤ ~ Cree for "You are welcome" or "There is room" ~~~tansi ᑖᓂᓯ/taanish ~ Cree/Michif for "Hello"
"A Place of Resonance" was the original name of this space where a mindful group of practitioners worked, brought together by Mariah Sinclair (Metis) and Raven Sinclair (Nehiyaw) in 2003. It came about through collective will to provide a grounded place to quiet the mind, body and soul and open up to deep, meaningful wellness.
We have grown in number over the years as a variety of independent practitioners sharing space and resources with the vision of being welcoming to all who enter regardless of gender identification/expression, race, religion, sex or sexual orientation.
The sharing of our history holds the energy of the space, facilitating our collective work, and maintains the beauty of the physical space in a harmonious way. This awareness helps us continue to create an atmosphere that allows for peace, relaxation, contemplation, nurturing, and healing. We are grateful for the insight, integrity, and work of Mariah, Raven, and the original practitioners who created this space and set their intention for the work to be done with a positive energy that lives here still.
Our logo honours these beginnings with the painted circle representing the medicine wheel and four directions, with the tree flourishing within. The medicine wheel and intricate network of branches of the tree represents our connection to clients, friends, family, ancestors and nature through the interconnectedness of all things.
It is a reminder that we are never alone or isolated. Through awareness and knowledge, we are provided with the power over our own physical, emotional, mental, and spiritual life with the support of our community. The peaceful and relaxing presence of Dutch Elms is part of the Broadway District's urban forest signifying growth, vitality and health-giving inspiration, and provides power to the work done by clients and practitioners here at BHC.
In consultation with our Indigenous/Metis Advisory Group we have included a Land Recognition, Indigenous and Metis language, and images within our website that share our work together. We show respect and responsibility for our collective role in the process of Reconciliation as outlined through the Truth and Reconciliation Commission.
Founders Mariah Sinclair and Raven Sinclair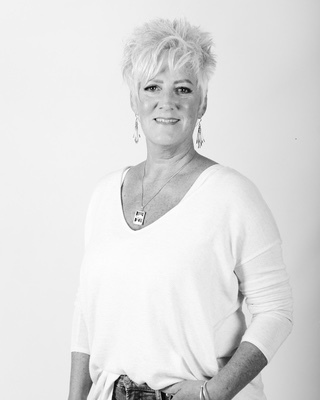 Mariah Sinclair
Raven Sinclair