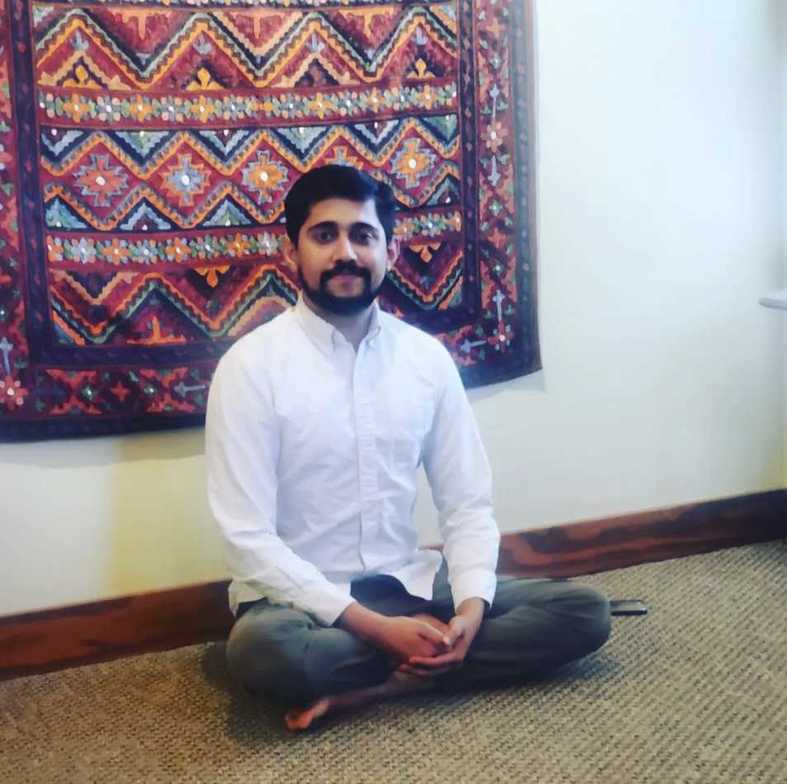 Join Karan at BHC every Thursday from 6:45 - 7:45 pm for a one hour meditation session. Doors open at 6:30 pm and will be locked at 6:45 pm once the class begins.
Please bring a yoga mat, blanket, a water bottle and $5.00.
About Meditation
The more we try to rush our healing, the slower it will go and the longer it will take.
Think about it; many people are overwhelmed, stressed, have super busy lives and rarely slow down. Essentially, when we rush, push or force our healing we may notice that we don't get the desired outcome. When we meet chaos with chaos, we get… chaos!
Healing requires we do the opposite – slow down, embrace the process and the journey. When we let go of trying to control, we shift our attention toward working with aligning with where we are in our own personal journey. We have a powerful influence on our physiology and nervous system which affects how disease starts and departs. Our body is designed to heal if given the right environment. If I could choose on thing the help me achieve less chaos it would be meditation.
Like most things we have to learn how to meditate, learn to slow down, learn to be mindful.
Meditation can give you a sense of calm, peace and balance that can benefit both your emotional well-being and your overall health.
I have asked Karan Bhardwaj to guide me in meditation and I invite you to join us. He has a quality that is very inviting and calming and has vast experience with meditating. You can read about Karan further down this page.
We will meet once a week in the evening to allow Karan to guide us through a variety of meditations. Each week he may explore different kinds of meditations to help you find something that works for you. To help us get grounded and hopefully find a way to bring the calmness of meditation into your everyday world – this is where healing can begin.
All ages welcome. Please bring a yoga mat to sit on, a blanket if you want, water and $5.00.
Please text me if you are keen to join; Denise at 306.361.4355.

About Karan Bhardwaj
Karan Bhardwaj is a man on a mission to help awaken human consciousness and unlock our full potential. With his extensive knowledge of various meditation, tantra, ayurveda, Vedas, Upanishads, and yoga techniques, Karan seeks to disrupt the way we think and empower oursleves to explore the true depths of our being.
Karan's personal journey of self-discovery began over 13 years ago, during which he immersed himself in the wisdom traditions of the world. Through his experiences and first-hand teachings, he has gained a wealth of knowledge and transformative methodologies that he now wants to share with the world.
In 2013, when he was 18 years old, Karan experienced a dramatic awakening that changed his life forever. This event rewired his system and opened up a whole new universe of potential. Born in India, Karan's educational background is diverse, ranging from Automobile in Melbourne, Australia, to Event Management in Canada, and Metaphysics in the USA. He has attended numerous retreats on wisdom and consciousness, including Spirituality in the Modern World, Yoga, and meditation.
However, Karan believes that his true education comes from within, as a highly conscious seeker who has gained a wealth of knowledge and experience through personal growth and self-discovery. He considers this inner learning to be the driving force behind his success and he wants to share his wisdom with others seeking to explore their own paths of self-discovery.
Throughout his life, Karan has held positions in various countries, ranging from sales team leader to event manager and spiritual and yoga teacher. He has worked for companies like Google and has been an entrepreneur. Nevertheless, Karan's ultimate vision is to open retreat centers that focus on holistic wellness and provide a space for people to unlearn everything and connect with the source energy of existence.
He believes that to understand and reach the divine, we must first learn to be present in the here and now. This means being more conscious, slowing down everything, and taking the time to speak and listen to our inner selves. He stresses that we must stop seeking validation and becoming dependent on external factors, as death will ultimately take everything from us. Instead, Karan encourages us to give up these attachments before they are taken from us and find the real wealth and bliss that we inherently belong to. By embracing these and many more principles, Karan believes we can unlock our true potential and create a life filled with meaning and purpose.
Currently located in Saskatoon, SK, Canada, Karan is eager to connect with anyone who wants to explore the role of the present moment, self-awareness, and consciousness. His mission is to help and teach people about these crucial concepts, empowering them to awaken to their true potential and create a life filled with purpose and fulfilment.

Denise Holmlund
Momentum Nursing Services, Patient Navigator, Patient Consulting, CST, Advanced Foot Care, Lymphatic Drainage and Ayurvedic Services
Contact Me