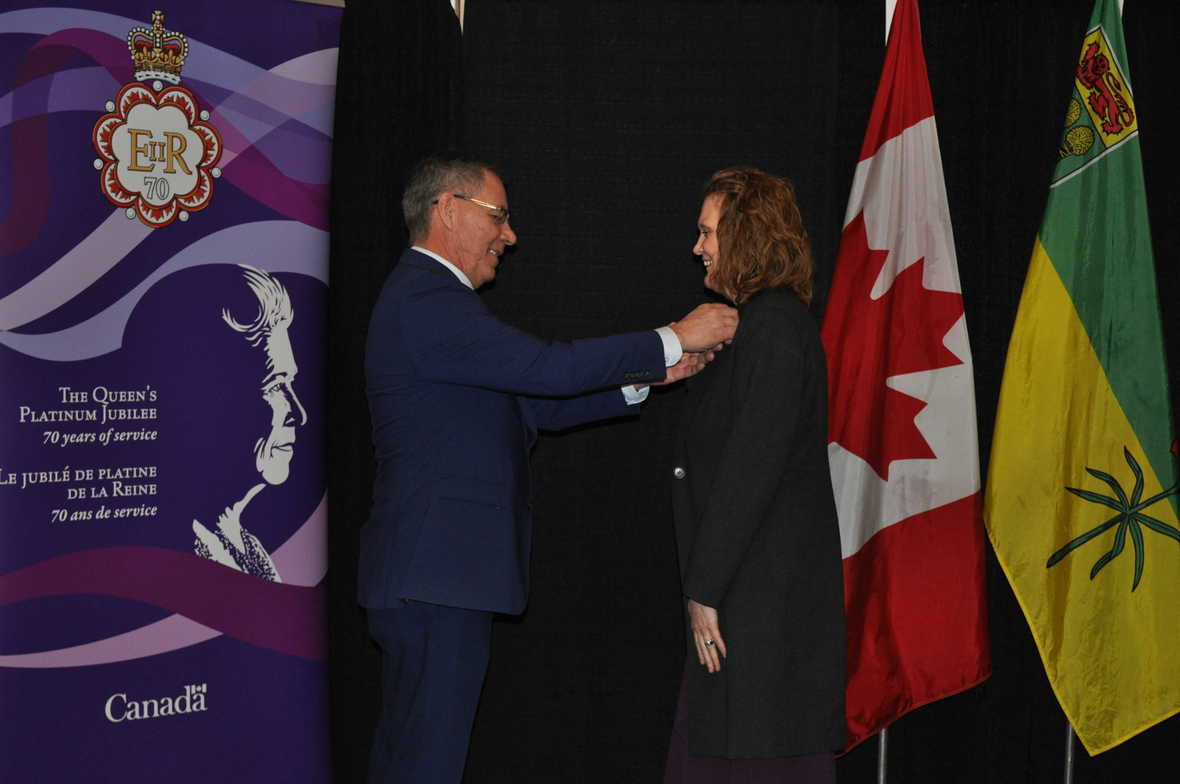 The Queen Elizabeth II Platinum Jubilee Medal (Saskatchewan) was created to celebrate the 70th anniversary year of Her Majesty Queen Elizabeth II's Accession to the Throne. Her Majesty the Queen approved the design of the medal in May 2022. The medal is a tangible way for the province of Saskatchewan to honour Her Majesty for her service to Canada. It also recognizes Saskatchewan citizens of all ages and all walks of life, who have made contributions to our country, province and community. A total of 7,000 medals will be awarded at ceremonies held throughout the province during the Platinum Jubilee year.

Pam Fichtner, a founding member of BHC, was nominated through the office of Erika Ritchie, NDP MLA. It is a honor for her to be recognized for her ongoing engagement in the community. Pam is grateful for all her connections within the Massage Therapy field, in particular, her involvement in Breast Health Education, Oncology care and Breast Health yoga.
Pam feels that the medal is not just about her, but about all the people that she has been allowed to work with, and be of service to. She would like to thank all the organizations and people who she has worked with and acknowledge their good work in the community (so look them up if you haven't heard of them).

They are as follows: Broadway Health Collective, WESK, Massage Therapy Association of Sask, Joos Yoga, YWCA - Encore program, Bust A Move, Breast Reconstruction Awareness Day, World Conference on Breast Cancer, Running Room, SCYAP, Saskatoon Business School, Saskatchewan Teacher's Federation, WHOLifE Magazine, University of Saskatchewan - various research projects on massage therapy, breast cancer and lymphedema, Muskeg Lake Cree Nation - Violence Against Women event, Tamara's House, Lymphedema Association of Saskatchewan, Greystone Actel program, and Broadway Street Fair. Also, her work with Saskatoon Unitarians in various capacities - service leader/chair , lay chaplain, youth chair and board member, and 5 Rhythms Dance, as well as Ness Creek Music Festival - Playground Co-ordinator/sharing circle workshops, Buena Vista Community Association, Saskatchewan Women's Organizing Committee, and school volunteering with Buena Vista, Greystone and Aden Bowman Collegiate.

Pam appreciates all she learned during her University days where she volunteered at the Crisis Nursery, Planned Parenthood, Interval House, Crocus Co-op, Immigrant Women of Saskatchewan, U of S Women's Centre, Campus Recreation and Katimavik.

Pam has also financially and socially supported the Stand - Treaty 6 Collective, Oskayak High School, Saskatoon Food Bank, Indispire, Out Saskatoon, Red Cross, True North Aid, Moon Time Sisters - Menstrual support, and the Community Arts Mentorship Program. Pam has been involved in the CHEP Good Food Run as well as various Reconciliation events.

Lastly, Pam feels so very blessed to have the support of her partner Dale, children Rowan and Siobhan, her parents, as well as the rest of her extended family and dear friends.
All of the Practitioners here at BHC are very proud of the work Pam does within our community.
Congratulations Pam!

Paul Buffel
RMT, Thai Massage Practitioner & Educator
Contact Me